For most, the end of the financial year can be a stressful and confusing time. There are deadlines to keep track of, expenses and receipts to collate, and one long form with a lot of really obscure stuff in it.
Around tax time, there's so much going on that you might just want to outsource all of your obligations to someone else.
And you're not alone.

After all, it's true what people say: in life, there's nothing certain other than death and taxes. And because taxes are a definite aspect of life, the end of the financial year can often seem like an inevitability you'd much rather avoid – much like going to the dentist.
How do you know what tax rate you're on? How do you calculate how much tax to pay? How do you fill out the very long income tax form, and by when? There are hundreds of questions that will come up - even if you're a seasoned tax expert, it's a lot to keep track of.
What you need is a kind of tax "survival" guide, a walkthrough of the dates, forms and terms you'll be encountering over the next few months.
We'll cover the following:
If all goes to plan, this guide will ensure that you get through all of the financial admin (hopefully) unscathed. And if the following Guide leaves you feeling, even more, overwhelmed than when you started out, don't worry - you can just leave all of your tax and financial admin to Hnry.

Making effective superannuation contributions

Superannuation concessional contributions
Unlike a salaried/PAYG employee, sole traders are (usually) on their own when it comes to saving for retirement - which leads many self-employed contractors and freelancers to kick their retirement planning down the road.
But there is a tax benefit in contributing to super - under the concessional contribution. Your super contributions come out before tax, and are taxed separately at just 15% up to a limit of $25k a year. The concessional contribution is a great way to lower your tax rate.
For example, if you earn $80k per year, your top rate of tax is 32.5%. If you make a concessional contribution of $10k to your superannuation fund, then that $10k gets deducted from your income before tax. The $10k super contribution would then get taxed in your super fund at just 15% rather than 32.5%, thus reducing your total annual tax bill by $1,750!
It's worth noting that you can add up to another $100k (on top of the $25k limit) towards superannuation, but you can't claim a deduction for this and it comes out of your post-tax income.
Contributing to your super is an important way of saving for your long term future and the tax deduction is a nice sweetener to incentivise good behaviours.
Superannuation co-contributions
The Australian government has an initiative called the Super co-contribution, to help low-middle income earners increase their superannuation contributions. The government will match a certain amount of contributions you make into your superannuation up to a maximum of $500. So put simply, if you meet the eligibility criteria and put $1000 into your superannuation scheme, the government will give you $500 for free. This government contribution gets paid directly into your super scheme after you have lodged your tax return. Just a note, however, if you make personal contributions as an income tax deduction you won't be eligible for the co-contribution scheme.
The amount of super the government is willing to contribute depends on two factors:
Your income, and
How much you personally contribute to super
The table below shows how much the government will contribute to your super given each of those factors.
Government super contribution thresholds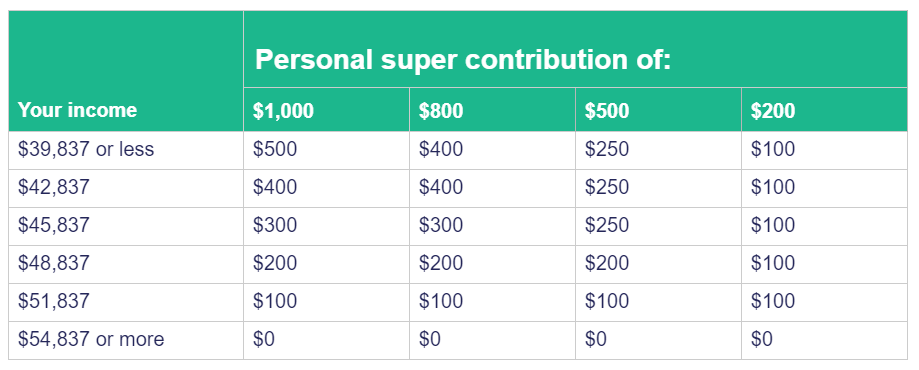 Claiming business expenses
If the Superannuation concessional contribution was a sort of first aid kit, then getting your expenses in order will be more of an 'immune boost' (both mentally and financially).
Throughout the year, you might have accumulated a handful of expenses that you can claim and therefore reduce the amount of tax you'll have to pay. If you have an accountant, you likely have been told enough about expenses already. You likely have a shoebox or a drawer in your house where you store all of your receipts. Now is the time to get that out.
Whether or not you have a casual filing space for your expense receipts (or if they're distributed throughout your house) getting your expenses in order can be a real pain.
Tax agents and accountants will know exactly what can be claimed, but the process will likely involve them sorting through the receipts that you've been keeping in a shoebox all year. Your accountant will ask for these - maybe they already have.
And unless you have a fixed price agreement with them, you'll likely be paying your accountant extra time for every receipt they have to review – some of which might go back as far as July, and some might not even be claimable (so, in essence, you've paid your accountant for nothing).
If you use some kind of software to log your expenses, it's important to keep this all up-to-date before June 30th. One of the major ATO rules to follow is to keep all expense receipts for five years, in the event that they come knocking for an audit.

Why Claim Expenses?
Claiming expenses reduces the amount of income that you are required to pay Income Tax on. But keep in mind, claiming a business expense does not entitle you to reimbursement from the ATO. The way expenses actually work is something as follows:
Say, for instance, that you earned $50,000 over the course of a financial year. If you had absolutely no business expenses, your income tax rate would be roughly 13%.
But say you've spent around $10,000 worth of business expenses throughout the year – your income after those expenses would be $40,000.
So your taxable 'total income' would be $40,000 and would reduce your Income Tax rate to around 10%.
If you're following along with a calculator, you'll see two benefits here. The first is reducing your taxable income by $10,000; the second is lowering your tax rate by about 3%. Feel free to play around with our tax rate calculator here to see how much of an impact claiming expenses can have on your tax rate.
In the scenario above, before claiming the expenses your total tax owing was about $6,700; after claiming the expenses it dropped to $4,100!
So try your best to avoid drowning in the quicksand of your receipts by getting ahead of them as soon as possible. If you haven't started digging into the gaps in your couch or the overflowing shoebox in your closet, it's probably best to start doing that now. The bottom line here is to make sure that everything's uploaded and coded in your system.
Aside from the two above things that you'll need to be aware of, there are several key dates that you should have circled on your calendar. Depending on how you earn your income, keep an eye out for the following dates and forms:

Key Dates to Remember
Perhaps the most important thing to remember is that your tax obligations aren't over at the end of June. There are a handful of dates throughout the year, all of which are crucial to ensuring you're all up-to-date and compliant with your taxes and obligations. So what are some of the big tax dates you need to remember?
1st of July. This is the big tax date, the start of the new financial year. This is the date that all tax-related obligations centre around: from this date you can begin applying for your tax refunds for the prior financial year.
As a GST registered contractor, freelancer, independent consultant, sole trader, or other self-employed earner, you may need to complete quarterly Business Activity Statement (BAS) or Instalment Activity Statement (IAS) as well.
31st of October. If you don't have an extension of time, or don't have an accountant or tax agent, you'll have until this date to file your tax return.
15th of May (of the following year). If you do have a tax agent or accountant, you'll have until the last day of the following financial year to submit your completed tax return. *Note: **once your tax return is filed you might inevitably have money owing, so don't delay! Conversely, if you are owed a refund, any delay in filing your return is money you are missing out on. This date is also different if you have had years where you have failed to lodge a tax return. *
21 days after receiving your notice of assessment (which comes 2-6 weeks after your tax return is completed). Your tax agent should inform you of this obligation before this date.
**28 October, 28 February, 28 April, 28 July. **These are the lodgement and payment dates for your quarterly BAS.

Lodging your tax return
Of course, it wouldn't be tax time without plenty of things to fill out. To fill out an income tax return, you'll need to have a good understanding of:
All your sources of income - this will include your salary, government allowances, dividends, interest earned of money in the bank, etc
Deductions - this will include donations made to registered charities
Spousal income
Personal Services Income
Tax offsets
Health insurance related private health insurances
Relevant income tests, e.g. fringe benefits, employer superannuation contributions, child support etc
Capital gains & rental income
…and many more things!
That's enough questions to send your head in a spin.
You'll have until October 31st to fill in and send in your income tax return (unless you have a tax agent or special dispensation, in which case you'll have until 15th of May).

Then there's the payments
Remember that tax time isn't just a couple of key dates recognised by ATO. Now that you've had things calculated, it's time to open up your wallet. Once you've submitted all of the necessary tax forms, you'll get a bill for Income Tax and Student Loan that you then need to pay.
Not only that but you now also have to pay your accountant (or anyone else who helped you get things sorted out, i.e. a bookkeeper). Even though you're still doing a lot of the work, your accountant will send you a bill for a 'lump sum'.
If you have overpaid your tax at the end of the financial year, you might be entitled to a tax refund. However, if you underpaid on tax, you'll be subject to 'PAYG' income tax installments – a scary phrase that means you'll have to make quarterly payments using your previous year's earnings to estimate your income for the current year - not ideal if your work is inconsistent!
Operating as a Registered Business? The Tax Pain Has Only Just Begun…
If you're operating as a registered company (i.e. one with an ACN), the real tax pain sets in shortly after you realise that you may need to do a number of forms (e.g. quarterly BAS returns) for your registered business. This means a lot more paperwork is required to be submitted.
It's actually a common misconception that you need to operate as a registered company in order to earn an income as a freelancer, contractor, independent consultant, or sole trader. In most instances, registering as a business is unnecessary and will only add to your workload and admin. If you employ people and therefore need payroll services, or if you're running inventory for your business, then it's probably best that you do register – however, for many, this is overdoing it and only proving to make all of the tax deadlines even more stressful.

How Hnry Helps
If you're a sole trader and earning an income through freelancing, contracting, or consulting, you could put up with all of this tax nonsense: the forms, the key dates, the confusion.
Or you could just let Hnry take care of it all for you.
In an instant, Hnry can take all the stress away from paying and filing taxes.
That's because Hnry automatically calculates, deducts, and pays all of your taxes - income tax, GST, Medicare, and Student Loan repayments - whenever you get paid.
Hnry also files your taxes whenever they're due - all as part of the service.
You also get access to our revolutionary app, which gives you so much more, including:
Smart invoicing software
Ability to automate payments to savings, investments, friends and family
Easy logging of business and home office expenses
Expense receipt storage for 5 years
Registered tax agent support
Representation to the ATO
You'll get all of this for just 1% of the self-employed income you process through Hnry, and it's all calculated on a pay-as-you-go model – meaning you won't have to pay Hnry until you get paid yourself.
Share on: